Tip 1: Do your Christmas shopping locally
By doing your Christmas shopping at a local business instead of one of the big online stores or multinational retail chains, you support the local economy instead of those big (already rich) corporations. Every product sold makes a big difference for those smaller businesses, and it actually makes someone happy. But what you might not know is that buying local is also more sustainable, for the simple fact that a lot of the products found in local businesses are usually sourced more locally than in bigger chains. Less travel miles means less pollution and less greenhouse gasses, so it's better for the planet. Some stores, like Borgerhub or Talent in de buurt for example even build their whole store around the concept of local artists and entrepreneurs.
Another fun side effect of shopping locally is concept stores. There is just something about browsing in cute little (or bigger) concept stores that you don't have when shopping online. The atmosphere there makes the shopping experience just so much more pleasant. 't Stad leest (in Antwerp) for example is a store I really enjoy browsing in (they have a webshop, so corona-proof browsing is possible). 
Of course, not everything can be found in a local concept-store. So don't feel bad for shopping online or at bigger retailers, as long as you consider shopping local as a valuable option.
Tip 2: Come up with a creative alternative for wrapping paper
Wrapping paper is a single use item and it contains very often plastic as well. Sure, there is something about unwrapping that is so appealing and fun. But there are other creative alternatives that can achieve that same purpose:
Use a used cardboard box and decorate it with some colorful paints, Posca markers, colored paper leftovers,... whatever fun stuff you have laying around! Be creative! If you bought your gifts online, you can use the box they came in.
Reusable gift bags: you probably have some gift bags or tote bags from a gift you got or from some sort of goodie bag. Big perk: you don't need any gift-wrapping skill whatsoever AND the person who receives the gift can use it later to wrap another gift.
Old newspapers or magazines: although they are becoming more rare these days (not necessarily a bad thing), you probably at least know someone that still likes to read the news on paper carrier and would love to get rid of it. A perfect sustainable alternative for wrapping paper. For the real creative masterminds, you can even create an overview of the last year's news highlights!
Of course don't let your creativity be limited by these 3 ideas, if you have some other fun ideas to avoid wrapping paper, let us know!
Tip 3: Make your own gifts
Making your own gifts is a fun way to practice your forgotten skills or learn some new ones! It's also a mindful way to cope with the holiday rush. And of course it is so much more personal than a bought gift. 'And how is this sustainable?' you ask. Making your own gifts requires way less energy (human effort + the energy-use of the tools you use) than mass produced items, and as most products are made in China, your homemade gifts don't have to travel half of the world to get to their destination. 
Tip 4: Get a tree with roots, and plant it again after the holidays
There is a lot of discussion going on about Christmas trees and sustainability. More specific on which is the most sustainable option, a real tree (which you use once) or a fake plastic tree (which you use quite a few times). Both have Pro's and Con's for why they are the better option or not: 
A plastic tree takes a lot more energy to produce, and in the process releases quite a lot of CO² (around 40kg). But it can be used year after year without losing its glory. But then again, when its glory years are over, there is no sustainable option to dispose of it, it will most certainly end up in a landfill. A real Christmas tree however is grown naturally and thus leaves a smaller carbon footprint (around 3.5kg if it has roots). A real tree is organic, so it can be composted (after being shredded) at the end of the season. 
If we compare both options, taking carbon emissions in account, they would tie if you use the plastic tree for at least 10 years. But if we include the end of life of both products, the real tree (if it has roots!) would be the better option, because it will just compost. The plastic tree however, would be a different story, even if it can be recycled. 
There is however another thing we didn't take into account just yet! What if you get a real tree with roots and plant it in your own backyard after the holidays, and dig it up again the next year, this way reusing your low-impact real christmas tree? It sounds simple but it is actually a little bit more complex than that, if you want your tree to survive. Luckily there are some guides out there to help you with it (for our dutch speaking readers: click here | in english: click here). This way you can also re-use your low-impact real tree a few times, making this probably the most efficient option.
Tip: You can always just decorate some big houseplants (if you have some) instead of getting a Christmas tree. This way it has no bad impact on the climate whatsoever and you can still create that very nice Christmas atmosphere.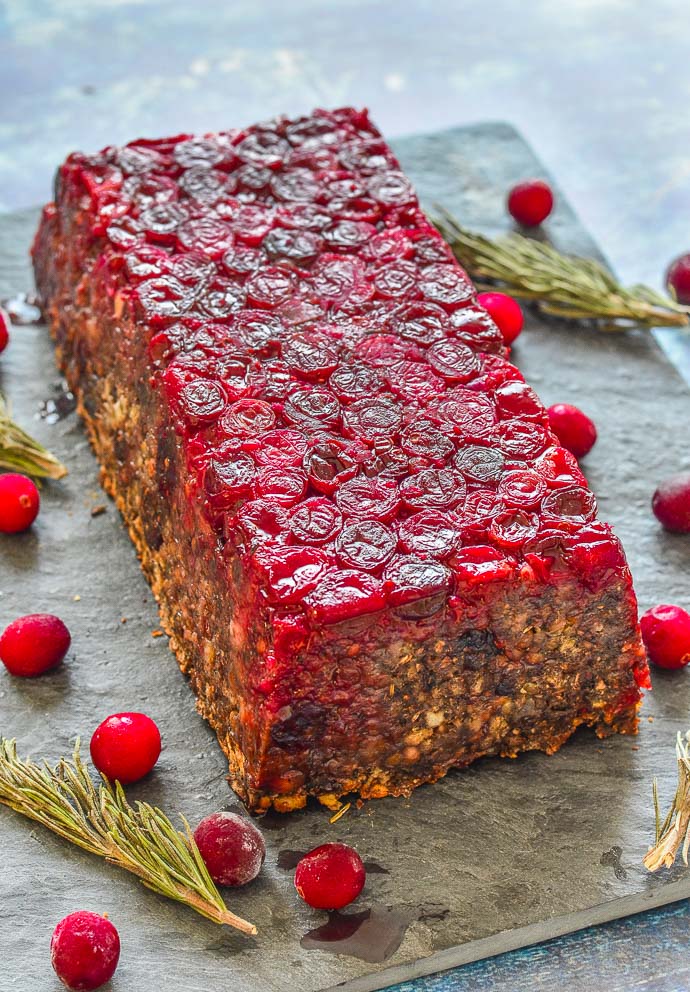 (Image by Melanie McDonald on https://avirtualvegan.com/cranberry-mushroom-lentil-loaf/)
Tip 5: Add some plant-based dishes to this year's holiday buffet
The new year is coming up fast, so it is almost time to start thinking about some new year's resolutions. But why not start early this year by cutting down your meat consumption? Don't get me wrong, I'm not saying you should all go cold turkey (pun intended), and stop eating meat. No, all I'm saying is that there are some delicious plant-based meals out there that would be a lovely addition to your Christmas buffet. It wouldn't hurt anyone to try some of them, and the planet will be grateful for it. BBC Goodfood even has made a collection of more than 60 vegan Christmas recipes, I'm sure one them would fit your needs. 
For those who want to go all the way and replace the meat from their Christmas menu, there are some beautiful recipes like this Mushroom lentil loaf and Nut roast that could definitely be the heart of your Christmas dinner party.